Offsite Backup Service
Network PhD's nSure Backup service provides a comprehensive innovative backup solution to keep your data safe and secure. nSure Backup provides the peace of mind knowing that your data is protected and available when needed.
Why Use Our Offsite Backup Service
Our solution has been proven to work well and be economical for customers of all sizes, from 1 GB small and medium businesses (SMB) to multi-terabyte enterprises. You will enjoy the benefits of a unified solution and secure online access to your data in our cloud from anywhere. We also provide:
Set It and Forget It backups
Data is Made Redundant and Verified on All Physical Media
Restore Data in Seconds, Not Minutes or Hours
Easy to use, centralized provisioning, management, notification, and monitoring features
Best in class backend infrastructure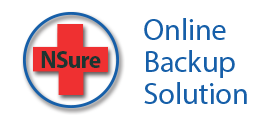 "Your data and applications are everywhere - make sure it is protected and safe."
Your data is the heart of your organization and making sure this information is available and secure is a key part of your business strategy. Offsite backup provides the peace of mind knowing that irregardless of a fire, hard drive crash or other calamity your data is still available.
Your Data is Filtered, Received, and Verified - The data arrives over nSure's redundant internet connection, is processed by multiple layers of network firewalls, and is then validated for authenticity and integrity. Your encrypted data is then placed in nSure's private storage cloud for future retrieval.
Our proprietary storage cloud was custom engineered to provide extremely high data integrity assurance. Multiple copies of your data are made, providing a 2N fault tolerance level, and separate and independent checksums are kept for each copy.